Costa Rica Business for Sale
Expired Listing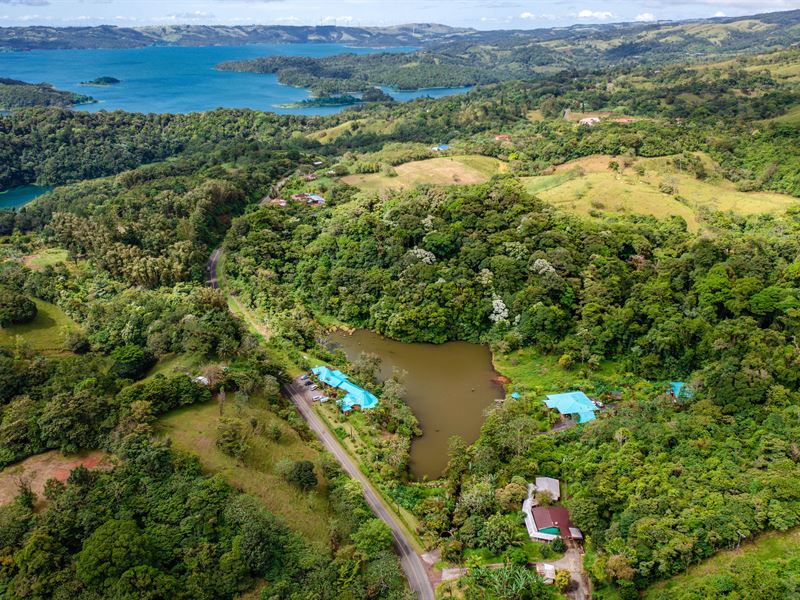 Property Description
Lake Arenal and the Lucky Bug business for sale.

The Lucky Bug Resort and Lake Arenal sits beneath the majestic Arenal Volcano in the northern part of Costa Rica. It's the biggest lake in Costa Rica providing essential hydroelectric power generation for the country. There are two fish species that live in the lake, the machaca and the famous rainbow bass, making it a popular fishing destination for outdoor enthusiast staying at the Lucky Bug resort. Over 100 other mammals survive thanks to the lake's water supply. Lucky Bug resort guests go hiking around the lake and they spot hundreds of bird species, tapirs and maybe even a jaguar (unlikely, but jaguars do live off of the lake).

Not far from the Lucky Bug Resort property for sale is Lake Arenal in Costa Rica offering aquatic adventures at the feet of giants. Lake Arenal, from 1972 to 1976, a huge earthen dam was built, resulting in the creation of the lake. Once the hydroelectric dam was finished in 1979, Lake Arenal was 3 times bigger than it was originally. There are two abandoned cities at the bottom of the lake that were moved to east side during construction of the dam. The deepest part of the lake is 180 feet deep. However, the depth adjusts throughout the year, and when the lake is shallower, you can see some islands appear.

The massive Arenal Volcano and lush rolling hills in the background, along with the shining blue waters, make Lake Arenal an incredible area for water and adventure activities, hiking, horseback riding, wildlife spotting and photography. The surrounding spas, hot springs and tourist towns make Lake Arenal and the Arenal Volcano one of the most popular tourist destinations in Costa Rica.

What tourists and locals like to do while visiting Lake Arenal and the Lucky Bug resort?

Water Activities near the Lucky Bug Resort

Do Lucky Bug Resort patrons dream of kayaking under a volcano? Maybe, but on Lake Arenal, you can. The lake is the perfect place for water activities. Kayaking, paddle boarding, and windsurfing are the most popular. In fact, Lake Arenal is one of the most loved windsurfing destinations in the Costa Rica. The Lucky Bug resort guests can also take a boat ride or sunset dinner cruises around the lake for unbeatable views from the calm lake water.

Paddle boarding, windsurfing and kayaking are very popular among tourists and locals. Between November and April you'll see a higher number of windsurfers and kite surfers thanks to the strong, consistent winds that blow over the beautiful lake.

Sport Fishing can be arranged from the Lucky Bug Resort

Fishing Lake Arenal thanks to the healthy population of rainbow bass (guapote) living in the lake, sport fishing is quite popular. The tricky fish are hard to catch, which makes fishing a fun challenge. Go fishing at sunrise and sunset for the best luck.

Arenal Volcano National Park Lucky Bug Resort

The Arenal Volcano National Park covers almost 30,000 acres and is an incredible geological and biologic treasure. In addition to hiking through the national park beneath the volcano, Lucky bug resort guests can also go on an adventure tour. Different adventure tours include horseback riding, rafting down the nearby rivers, zip lining, mountain biking, bird watching and even an ATV tour. Exploring the national park is a great way to learn about the volcano and spot wildlife. All activities can be arranged from the Lucky Bug Resort in Costa Rica.

What towns are close to Lake Arenal? Nuevo Arenal is your answer.

Biking at Lake Arenal offers guests incredible volcano and mountain views; visit the tiny town of Nuevo Arenal on the northeast side of Lake Arenal. You can get to the town through La Fortuna. The town was built in 1973, the same time as the dam. When "old" Arenal was flooded, Nuevo Arenal was built 620 meters above sea level. It's a great place to experience small town culture and even some active nightlife. Don't forget to stop by the Arenal Botanical Gardens. It has over 1200 tropical Costa Rican plants.

Lucky Bug resort is not far from La Fortuna

La Fortuna de San Carlos is a small town about 3 hours away from San Jose and only 10 kilometers from the Arenal Volcano. It conveniently connects the Arenal Volcano with the Monteverde Cloud Forest, and the Santa Elena Cloud Forest. Thanks to its proximity to the volcano, lake and local hot springs, La Fortuna is very popular. You'll find some of the best hotels and spas in the area with amazing volcano views.

The best resort and Bed & Breakfast in Costa Rica

The Lucky Bug B & B is a boutique Bed and Breakfast. From the paintings that adorn the walls to the hand painted sinks and tiles, the five spacious and exquisitely furnished rooms reflect the work of the Costa Rican artisans who supply the gallery.

All rooms have views of the rainforest and two have balconies overlooking the Lucky Bug private lake. Go to sleep watching fireflies dance outside your window. Awaken to the sounds of Howler monkeys and tropical birds.

The Lucky Bug B & B has its own rainforest trail that meanders through the jungle. Here is an opportunity to see the actual flora and fauna up close. Orchids and bromeliads hang from the trees, and you might catch a glimpse of the bright poison dark frogs, coatis, or iguanas. You can also fish and canoe on our lake for Tilapia or Guapote (rainbow bass), or the owners can arrange an adventure or sightseeing tour for you.

Lucky Bug Resort lodging in Costa Rica

Turtle Room: Superior King Room. Beautiful spacious room facing the rain forests where you can see hummingbirds, birds, and butterflies out of your window. This very quiet room for those who would like to just relax and enjoy the Pura Vida style of travel in Costa Rica.

Butterfly Room: Superior King Room. This beautiful room has a King Sized bed, a balcony overlooking the property, a private bathroom with a hot shower, and has been exquisitely decorated with items from the Lucky Bug gallery.

Flower Room: Standard Twin Room. This beautiful room has two Twin Beds, faces the rain forest, a private bathroom with a hot shower, and has been exquisitely decorated with items from local artisans and craftsmen.

Sun Suite: Queen Suite. This is a suite with a Queen sized bed and two Twin beds, a living room, dining room, and a kitchenette. Perfect for families, with a deck in the front of the suite allows people to relax and look out at our property and private lake.

Frog Room: Superior King Room. This beautiful room has a King Sized bed, a balcony overlooking the property, a private bathroom with a hot shower, and has been exquisitely decorated with items from the Costa Rican flavor.

RESTAURANTE Caballo Negro at the Lucky Bug Resort

A longtime Costa Rican favorite of tourists and locals alike, the restaurant, Caballo Negro offers a delicious variety of international and vegetarian dishes made with the finest and freshest organic ingredients available.

German favorites such as the Jaeger Schnitzel, Zigeuner Schnitzel, and Bratwurst, homemade Spaetzle, homemade corned beef for either Corned Beef Hash for breakfast or a Reuben sandwich for lunch will satisfy even the heartiest appetites. Vegetarians will savor the crisp fresh flavor of the Eggplant Parmesan. You want breakfast at 1:30 in the afternoon, or lunch at 10:00? No problem. Your choice. You can stroll through the adjacent gallery with your fresh tropical fruit smoothie to find the perfect memento of your vacation as you await your meal, or just sit and watch the birds on the private lake that the restaurant overlooks. Toucans, aracaris, magpie-jays, tanagers, and woodpeckers are regulars at our feeders.

Costa Rica Businesses for Sale

United Country Costa Rica Properties offers a new buyer three businesses, the Lucky Bug resort, Bed and Breakfast, Lucky Bug Gallery, and Restaurante Caballo Negro which puts it as one of the prime hotels for sale in Costa Rica. All three businesses for sale have been easily managed by two people.

The Restaurante Caballo Negro, which is known throughout the country as one of the "go-to" restaurants, as well as popular with locals, both expats and Ticos.

The Lucky Bug Gallery is also well known for supplying many hotels and homes throughout Guanacaste with decorations, art objects, paintings, lamps, sconces, and numerous other items that are unique and are all created by Costa Rican artists, as well as products from the owner and her daughters.

The Lucky Bug Bed and Breakfast is an award-winning B&B that has just entered into the Costa Rica Real Estate Market. This is one of the best businesses for sale in Costa Rica currently. This property is one of the best turnkey businesses for someone who wants to come to paradise and have some income while doing that. As a hotel for sale in Costa Rica, this one comes with many advantages.

Currently, TripAdvisor rates the B&B as a Traveler's Choice B&B, which puts it in the top 1% of all B & B's in the world, and is ranked 2 in all of Costa Rica, and 5 in all of Central America, which puts it as a premier Costa Rica business property for sale.

About 5.5 Acres of beautiful property that is surrounded by rain forest.

4 BR Home on the property with a Patio looking out at the Private Lake.

Who is the best Real Estate Company and brokers in Costa Rica

United Country Costa Rica Properties brokers and Tanette Smith are your exclusive listing brokers bringing you this amazing property and business offering. Michael and Tanette are credentialed International Property Specialists with the coveted ( Cips ) designation assuring all clients expert and professional real estate services with a code of ethics buyers and sellers can have confidence in. They are offering an attractive co-op fee to other brokers for the sale of the Lucky Bug Resort for sale in Costa Rica.

Costa Rica International Real Estate

United Country International Properties for Sale is a destination real estate website for clients interested in sale or purchase of homes, condominiums, land and other international real estate. We feature coastal properties located in Central America, many condominiums as well as businesses for sale.

With hundreds of homes, condos, beautiful beach properties, recreational listings, United Country Real Estate is one of the largest sources for purchase or sale of international property.

Contact Michael or Tanette to schedule a private tour, for more pics and info, Pura Vida.

United Country Costa Rica Properties Lucky Bug Resort for sale in Costa Rica.