Arkansas Business for Sale
11163 Hwy 65 N : Bee Branch, AR 72013
Van Buren County, Arkansas
Expired Listing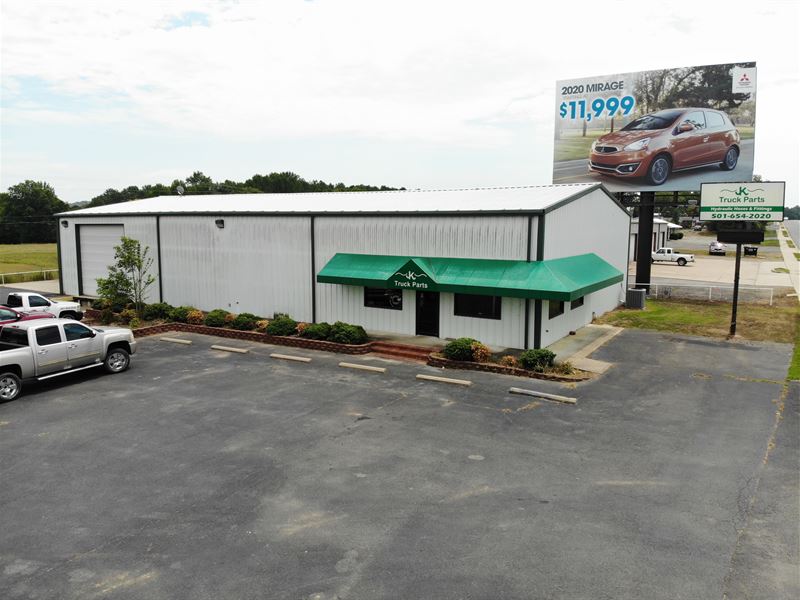 Property Description
Turnkey Truck Parts Business for Sale in Bee Branch Arkansas

Built in 2010, at one of the busiest intersections in Van Buren County, this quality-built 50' X 100' commercial building boasts over 7,500 square feet of floor space for the next owner. Located on the corner of Highways 65 and 92 in Bee Branch Arkansas, this corner lot is.75 acres with white pipe fencing providing a nice border on the East and South sides of the property. The parking lot has asphalt paving with concrete dock and load out areas. Not only does the main lighted pedestal sign convey with the sale, but there is also a programmable digital sign mounted on the highway sign as well that goes with the sale.

As you walk through the door, there is approximately 2,500 square feet of heated and cooled retail space. This area houses retail shelving, peg boards for hanging parts displays, sales counter, customer bathroom, and office. The 2,500 square foot loft area, located above the retail space, has a 19'6" X 15'6" office space, meeting room, employee break room, or whatever you want to make it. Surrounding the loft office is an additional parts storage area neatly organized around the central heat and air system that services the retail space.

The warehouse area is 2,500 square feet with 16' sidewalls. There are 2-16' X 16' roll up doors that service incoming and outgoing deliveries either at floor level or dock height. In this area industrial shelving houses heavy truck hubs, suspension parts, filters, etc. There is an additional bathroom as well as a couple of small storage rooms in the warehouse area.

This is a turnkey truck parts business that includes all parts inventory at the time of sale, as well as all equipment that pertains to the business. Some of this equipment includes a Nissan forklift, hydraulic hose repair equipment, shelving, and 2 parts delivery trucks. According to the Arkansas Department of Transportation 2019 traffic counts, there are over 10,000 vehicles that pass by this location every day. Even if the truck parts business is not your forte', you owe it to yourself to take a look at this great location and building to see if there is a way to make this your prime business location.