Commercial Buildings for Sale
21 & 22 Court Square : Alton, MO 65606
Oregon County, Missouri
Expired Listing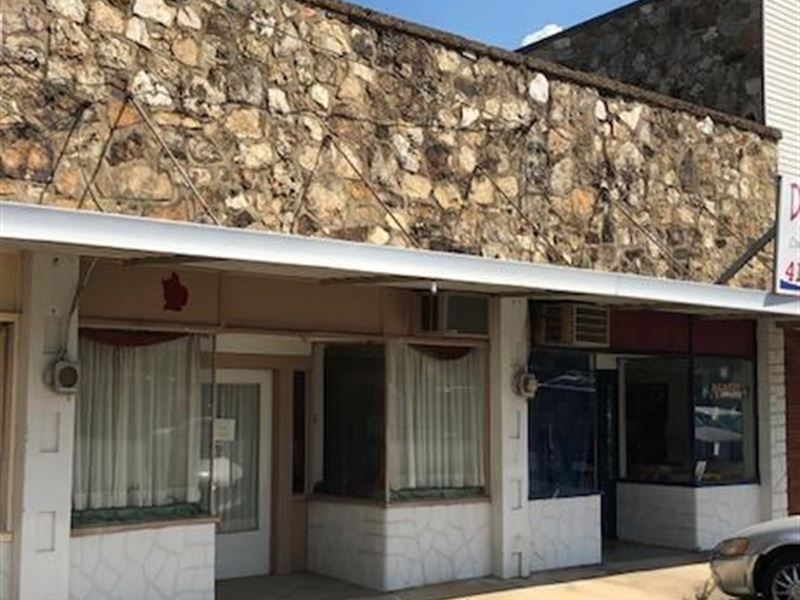 Property Description
Excellent business opporrunity on the court sauare in Alton, MO. Space on the square is limited. This pair of buildings would make a great restuarant, deli, retail store, office space, etc. Use both of them or keep one and rent the other. Call today to view this amazing property and make your dreams of owning your own business come true.

Mls: 60142804

If you liked this listing then check these out.

Canoe Rental and Cabin Business for sale

Commercial Building for Sale in Alton Mo

Oregon County, Missouri

Made up of four main populated towns; Alton, Thayer, Koshkonong, And Thomasville. with many other smaller populated areas such as Myrtle, Couch, Billmore, Garfield, Clifton, Jeff, Riverton And numerous others.

Population

10,953

Climate

Oregon County, Missouri, gets 47 inches of rain per year. The US average is 39. Snowfall is 6 inches. The average US city gets 26 inches of snow per year. The number of days with any measurable precipitation is 70.On average, there are 215 sunny days per year in Oregon County, Missouri. The July high is around 90 degrees. The January low is 23.

Education

There are 4 school districts in Oregon County.

Alton

Thayer

Koshkonong

Couch

Hospitals

Ozarks Medical Center is a system of care encompassing a 114-Bed acute care hospital, 8 primary care and 15 specialty clinics, along with complete rehabilitation and home care services. We are a medical referral center with over 1100 employees, serving an 8-county area in south central Missouri and north central Arkansas.

Electric Company

Howell Oregon Electric Cooperative- Headquartered in West Plains, Missouri, Howell-Oregon Electric Cooperative provides distribution of reliable cost-efficient electricity to approximately 24,000 citizens and businesses of south-central Missouri across six counties: Douglas, Ozark, Texas, Shannon, Howell and Oregon.

Telecommunications

Fidelity Communications- Cable television, home phone, and high speed internet.

Century Link- Home phone, high speed internet, and dish network Television.

Airports

The closest airports to oregon County are the Springfield- Branson National Airport,  Memphis International Airport,Little Rock- Clinton National Airport, and Lambert-St. Louis International Airport.

Closest large Cities

Springfield, Missouri-

With more than 440,000 people in the metro area, Springfield is where the rolling hills of the Ozarks plateau form a surprisingly modern and green city.

A "big, small town," Springfield offers a great blend of fascinating attractions, historical treasures, sports excitement and cultural and leisure activities in a welcoming environment.The city offers 102 parks, including a linear trail system that integrates with the city's growing on-street bike route system; an airport; an art museum; a zoo; the Springfield Lasers professional tennis team; the Springfield Cardinals minor-league baseball team and is home to Bass Pro Shops, Missouri State University, Drury and Evangel universities and the Assemblies of God Usa.

Branson, Missouri-

While visiting you can: attend star-studded performances at Branson's many live shows; enjoy Silver Dollar City, one of the world's top theme parks; take in the beauty and adventure of the Ozark Mountains and three pristine lakes; play some of the best golf in the Midwest; visit museums highlighting the area's rich history and culture; relax at spas and resorts; and shop at Branson's many boutiques, galleries and outlets.

Jonesboro, Arkansas-

Jonesboro, one of the state's most progressive cities, was established in 1859 among the rolling hills of Crowley's Ridge in northeast Arkansas. Downtown is filled with gift shops, restaurants, art galleries, a day spa and an active civic center called the Forum. Arkansas State University offers one of the mid-South's finest museums, a fine arts center and an indoor sports/entertainment complex. The Forrest L. Wood Crowley's Ridge Nature Center provides an interesting tour of the natural wonders of the region, plus serves as a stop along Crowley's Ridge National Scenic Byway.

Memphis, Tennessee-

Memphis is a pilgrimage for those wanting to visit the birthplace of the blues, of soul and of rock 'n' roll. On Beale Street, W.C. Handy put down on paper the first written blues music. Elvis, Roy Orbison, Jerry Lee Lewis and Johnny Cash all recorded at the historic Sun Records, which is now a museum. Graceland, the second most-visited home in America, welcomes visitors from around the world who yearn for a peek into the life of "the King." Beyond the music, Tennessee's largest city also offers much more. It has more sunny days each year than Miami, and combines southern tradition and hospitality with modern amenities. You'll enjoy great dining (be sure to sample the barbecued ribs), art galleries and exciting nightlife.

Things To Do

Eleven point River-  A Beautiful Scenic River perfect for Conoeing, Kayaking, boating, swimming, Fishing, and so much more.

Spring River- a Clear spring fed river with long pools and whitewater falls. Exceptional trout and walleye fishing, canoeing, kayaking, boating, swimming and much more.

Norfork Lake-

a 22,0000 Acre lake located in Mountain Home, Arkansas. Home to a variety of fresh water game fish.

Boating, water skiing, ping and swimming are all extremely popular on the lake.

Bull Shoals Lake-

The largest lake in arkansas. Covers over 94,000 acres. Known for bass fishing, water sports, boating, swimming, and camping.

Mark twain National Forest-

Mark Twain National Forest has a wide range of popular recreation opportunities. The forest has over 750 miles of trails for hiking, horseback riding, mountain biking, and motorized use. Sections of the Ozark Trail wind through the forest. More than 350 miles of perennial streams, suitable for floating canoeing and kayaking, meander through its canopied expanses. Our campgrounds offer visitors a variety of forest experiences, including semi-primitive and wilderness camping for solitude.

Peck Ranch-

The area consists of 23,763 acres of rugged, forested hills and hollows.This area is predominantly forest with nearly 1,500 acres in glades, along with quality woodland, cropland and some wetlands. Facilities/features: primitive camping, picnic areas, firearms range, viewing deck, two deer/turkey blinds, one intermittent stream and four Natural Areas (Grassy Pond, Goldenseal, Stegall Mountain and Mule Hollow). There is a 10 mile self guided tour for elk viewing.

Grand Gulf-

Some people call Grand Gulf State Park the "Little Grand Canyon." Some just call it "breathtaking." The park is one of the natural wonders of the Ozarks, presenting the most spectacular collapsed cave system in the Ozarks. The "Grand Gulf" stretches for more than a mile between 130 foot high walls. Visitors can view the gulf from trails on top or from the floor where they can walk under the natural bridge, which spans 250 feet with a 75-foot high opening.